Will H. Bradley
was an American Art Nouveau illustrator and artist. Nicknamed the "Dean of American Designers", he was the highest paid American artist of the early 20th century.
His artistic style is considered a branch of Art Nouveau, (where he was considered the foremost illustrator and poster designer of this movement)[1] though it draws heavily from the aesthetics of the Arts and Crafts Movement and Japanese block printing. His work was often compared to that of his English contemporary, Aubrey Beardsley, so much so that some critics dismissed him as simply "The American Beardsley." Bradley was already an established artist by the time Beardsley's designs became popular in England in 1894. Bradley's primary medium was posters, at the time a developing art form. Poster art was pioneered at the turn of the century by French artists like Jules Chéret and Toulouse-Lautrec, but Bradley is credited with popularizing the two-dimensional poster style in the United States.
Sir Edward Burne-Jones
was a British artist and designer closely associated with the later phase of the Pre-Raphaelite movement, who worked closely with William Morris on a wide range of decorative arts as a founding partner in Morris, Marshall, Faulkner, and Company. Burne-Jones was closely involved in the rejuvenation of the tradition of stained glass art in England; his stained glass works include the windows of St. Philip's Cathedral, Birmingham, St Martin's Church in Brampton, Cumbria, the church designed by Philip Webb, All Saints, Jesus Lane, Cambridge and in Christ Church, Oxford.
Burne-Jones's early paintings show the heavy inspiration of Dante Gabriel Rossetti, but by the 1860s Burne-Jones was discovering his own artistic "voice". In 1877, he was persuaded to show eight oil paintings at the Grosvenor Gallery (a new rival to the Royal Academy). These included The Beguiling of Merlin. The timing was right, and he was taken up as a herald and star of the new Aesthetic Movement.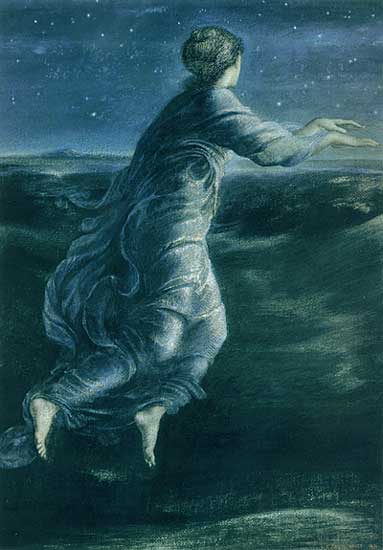 Dean Cornwell
was an American illustrator and muralist. His oil paintings were frequently featured in popular magazines and books as literary illustrations, advertisements, and posters promoting the war effort. Throughout the first half of the 20th century he was a dominant presence in American illustration.[1] At the peak of his popularity he was nicknamed the "Dean of Illustrators".
Cornwell was born in Louisville, Kentucky. His father, Charles L. Cornwell, was a civil engineer whose drawings of industrial subjects fascinated Cornwell as a child. He began his professional career as a cartoonist for the Louisville Herald. Soon thereafter he moved to Chicago, where he studied at the Art Institute and worked for the Chicago Tribune. In 1915 he moved to New York City, and studied under Harvey Dunn at the Art Students League of New York. Eventually he traveled to London to study mural painting as an apprentice to Frank Brangwyn.
Cornwell's paintings graced the pages of Cosmopolitan, Harper's Bazaar, Redbook, and Good Housekeeping magazines, illustrating the work of authors including Pearl S. Buck, Lloyd Douglas, Edna Ferber, Ernest Hemingway, W. Somerset Maugham, and Owen Wister. He painted murals for the Los Angeles Public Library, the Lincoln Memorial Shrine in Redlands, California, the Eastern Airlines Building (now 10 Rockefeller Plaza), the U.S. Post Office in Chapel Hill, North Carolina, the Warwick New York Hotel in New York City, the Davidson County Courthouse and Sevier State Office Building in Tennessee, and the Centre William Rappard in Geneva, Switzerland.
Cornwell taught and lectured at the Art Students League in New York. He served as president of the Society of Illustrators from 1922 to 1926, and was elected to its Hall of Fame in 1959.[2] He died in New York City.


Edmund Dulac
was a French book illustrator prominent during the so called "Golden Age of Illustration" (the first quarter or so of the twentieth century).
Born in Toulouse, France, he began his career by studying law at the University of Toulouse, but also followed classes in the Ecole des Beaux Arts, switching full time to art after he became bored with law, and also having won prizes at the Ecole des Beaux Arts. He spent a very brief period at the Académie Julian in Paris in 1904 before moving to London.
In London, the 22-year old Frenchman was picked up by J.M. Dent and given a commission to illustrate the collected works of the Brontë sisters. He then began an association with the Leicester Gallery and Hodder & Stoughton; the gallery would commission paintings from Dulac and then sell the rights to Hodder & Stoughton, who would publish the books (one book a year over many years) while the gallery would sell the paintings. Books produced under this arrangement by Dulac include Stories from The Arabian Nights (1907) (including 50 colour images), an edition of Shakespeare's The Tempest (1908) (including 40 colour images), of The Rubaiyat of Omar Khayyam (1909) (including 20 colour images), The Sleeping Beauty and Other Fairy Tales (1910), Stories from Hans Christian Andersen (1911), The Bells and Other Poems by Edgar Allan Poe (1912) (including 28 colour images and many monotone illustrations) and Princess Badoura (1913).
Dulac became a naturalized British Citizen on Feb 17 1912.[2]
During World War I he contributed to relief books, including King Albert's Book, Princess Mary's Gift Book, and, unusually, his own Edmund Dulac's Picture Book for the French Red Cross (1915) (including 20 colour images). Hodder and Stoughton also published The Dreamer of Dreams (1915) (including 6 colour images) - a work composed by the then Queen of Romania.
In 1995, Ann Hughey compiled a bibliography - Edmund Dulac - His Book Illustrations: A Bibliography, which lists over 800 editions of works that include illustrations by Edmund Dulac.